AMC Starts Its Own Subscription Service
After protesting MoviePass' movie ticket subscription model, AMC has come up with a subscription plan of its own.
The global theater chain will offer a new plan starting June 26 called the AMC Stubs A-List that will allow subscribers to see three movies a week for a monthly fee of $19.95. That's double the current price of MoviePass, and the movie allowance doesn't roll over from week to week. But unlike MoviePass, the model will let viewers see films in premium formats like Imax and Dolby Cinema, watch films multiple times, and go to multiple movies in the same day. And the deal will come with the benefits of AMC's existing rewards program, which includes free refills on popcorn.
 On Wednesday, MoviePass responded to AMC's with the following tweet:
Heard AMC Theaters jumped on board the movie subscription train.  Twice the price for 1/4 the theater network and 60% fewer movies.  Thanks for making us look good AMC!

— MoviePass (@MoviePass) June 20, 2018
Kehlani – You Know Wassup
Since the video's surface of YG kissing another woman, the world has been wanting to hear from girlfriend, Kehlani. Today, the songstress finally breaks her silence in the form of a record titled, "You Know Wassup". In the record Kehlani addresses YG, his demons, her traumas and how both collide.
Take a listen and let us know what you think below!
'Black and Blue' Film Review
Cast: Naomie Harris, Tyrese Gibson, Frank Grillo, Mike Colter, Nafessa Williams, Reid Scott, James Moses Black, and Beau Knapp
Director: Deon Taylor
Release Date: Oct 25, 2019
Running time: 108 min
Corruption in the police force has been a topic of multiple on-screen titles throughout the years. With Black and Blue, however, director Deon Taylor (Intruder) brings an alternative perspective – he does not only showcase the turbulent relationship between the Black community and law enforcement but welcomes a never seen before character – a black female lead, who is a police officer – to help understand that relationship in all its complexity.
The film opens with a scene in which the lead character, rookie officer Alicia West (Naomie Harris), is pulled over and roughly searched by two white cops while on her morning run in what seems like a suburban neighborhood. The officers release her shortly after they learn "she is blue", then arrogantly state that West "fits a description". Without issuing an apology, the cops leave the slightly shaken rookie be. Later at the precinct, West volunteers to cover for her partner Kevin (Reid Scott) and teams up with officer Deacon Bacon (James Moses Black) for a graveyard shift. While on patrol, West witnesses a murder of three young men by narcotics detective Terry Malone (Frank Grillo) and his crew in an abandoned factory. When West is detected with her bodycam recording the execution, the fellow officers attempt to kill her. She manages to escape. Malone, desperate to get the bodycam, recruits druglord Darius (Mike Colter) to find West. He falsely accuses her of killing Darius's nephew (one of the murdered drug dealers). With the entire NOPD and Darius' crew after her, West turns to her childhood friend Mouse (Tyrese Gibson) for help. Mouse also has had a traumatic encounter with the police in an earlier troublous but yet powerful scene. Concerned about a possible break-in to his store, he calls for police. When a cop arrives, he treats Mouse as if he was the criminal – shoves him against a table and threatens him with a gun. Terrified and upset, Mouse quietly breaks down.
The narrative exposes the unfortunate realities many face today. Black communities are being neglected and taken advantage of and those, who swore to protect and serve, often only follow the oath when it's in their own interest. In this scenario, Naomie Harris' character, is the best hope for any type of resolve. She is an outsider but also belongs, all at the same time, which makes her a perfect candidate for the job. She believes, perhaps naively, that by going against the grain and following her principles, she can earn people's trust and amend the broken relationship between the 'blacks' and the 'blues'.
Black and Blue excites with its action-filled sequences, suspenseful moments and chilling but yet beautiful sights of post-hurricane-Katrina New Orleans. Audiences will enjoy great performances and will be entertained by finding hidden messages throughout the film. Black and Blue delivers a vital modern story of crime and punishment and reiterates the notion that doing the right thing is always the right thing.
Watch: 'Let It Snow' Debut Trailer Starring Shameik Moore
Spiderman Into The Spider-Verse star Shameik Moore plays a high school senior in a new Christmas comedy Let It Snow, based on the best-selling book by John Green, Maureen Johnson, and Lauren Myracle.
When a snowstorm hits a small midwestern town on Christmas Eve, a group of students find their friendships and love lives colliding thanks to a stranded pop star, a stolen keg, a squad of competitive dancers, a mysterious woman covered in tin foil, and an epic party at the local Waffle Town. Come Christmas morning, nothing will be the same.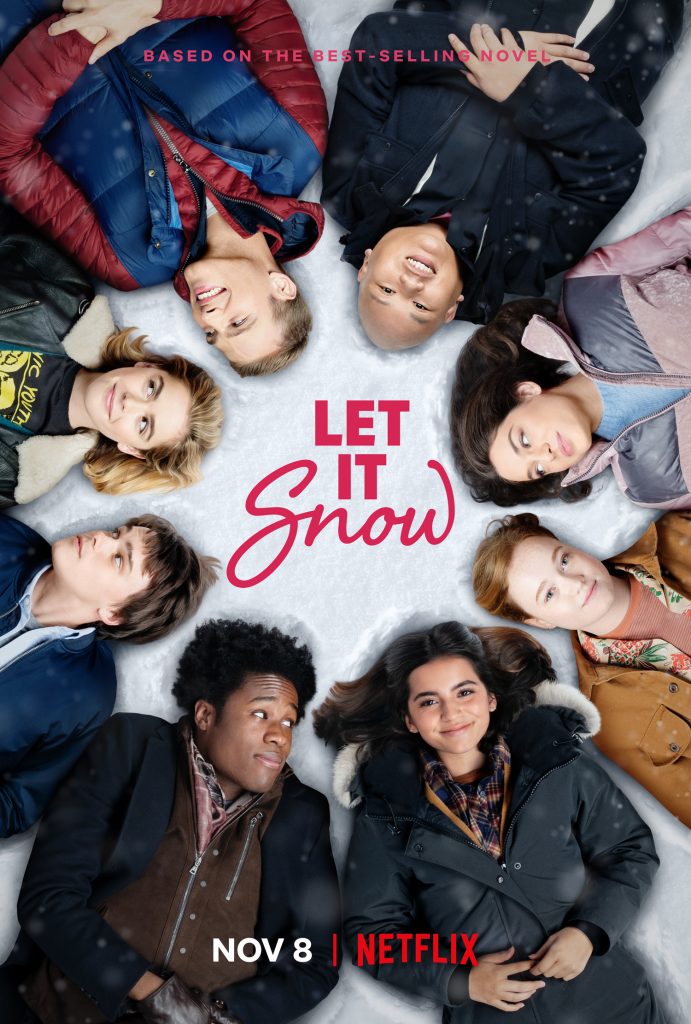 The cast also includes Isabela Merced, Odeya Rush, Liv Hewson, Mitchell Hope, Kiernan Shipka, Jacob Batalon, and Joan Cusack.
The film will land on Netflix on November 8. Watch the trailer above.